Tokyo Narita Virgin Atlantic Clubhouse
You will be offered a lounge invitiaiton at check in for the Virgin Atlantic Tokyo Clubhouse: use it - the lounge is one of the best at Tokyo Airport.
The Tokyo Virgin Atlantic Clubhouse is in the central part of Terminal 1, right next to the Korean Air lounge. It is quite small, but a refurnishment in 2007 worked wonders: it is now a very pleasant place to have breakfast before the long flight to Heathrow. The lounge is stylish and bright with a subtle Japanese design and seats 70 guests. There is now a sunken lounge, a sun deck and new business facilities.
Virgin Atlanticís new Narita Clubhouse now is just one large space, but there are some dividers to provide a little privacy, and there are a couple of rather odd sunken lounges with sofas, and a raised sun deck seating area which gets the most out of the natural light that floods into the lounge in the mornings. It also has great views of the airplanes.
A wacky part of the lounge is the series of high vertial screens with images that are supposed to give you extra 'visual experiences' as you move through the space: another one is the strange green vertical bars of bamboo that separate the areas.
The Tokyo Clubhouse also uses the same 'Welcome' system as used at Heathrow: it does actually work to let you know when the flight is boarding, but other than that is a bit pointless.
Food
Food
is pretty basic from the self-service snack station; at breakfast time there is cerial (such as cornflakes, in weird Japanese packets) & muffins, plus pastries, onigiri, vietnamese spring rolls, and fruit salad.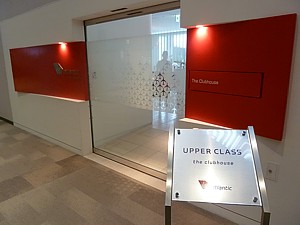 Tokyo Narita Virgin Atlantic Clubhouse
You can also order something from the kitchen if you want something more substantial: this is much better, with a full cooked English on offer, along with sausage and bacon rolls, and salmon with scrambled eggs.
Bar
There is just one
bar
; it is as you would expect very basic for a lounge that is only open at breakfast time.
There is a soft drinks machine, and a coffee machine too.
Bathrooms
In lounge, no showers.
Business Facilities
The Clubhouse offers new business facilities, with three fast new computers, a printer, and of course wifi throught the lounge. If you really need them there are old fashioned land line phones: they cost a fortune to call the UK.
One curiosity is there are also facilities to charge mobile phones and blackberries.
Newspapers and magazines are good, with a decent selection from the UK.