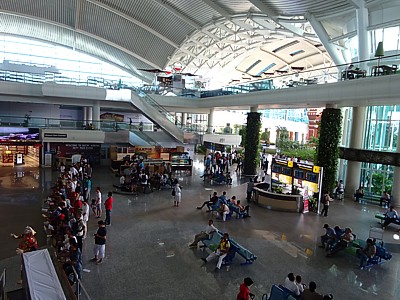 Denpasar Bali Ngurah Rai International Airport
NEWS: The departure tax has been axed. Recently, all passengers on international flights had to pay a departure tax, however this charge is now included in the price of your flight. Also passengers are no longer required to complete departure/arrival cards
Bali Ngurah Rai International Airport, also known as Denpasar International Airport, is the main - not to say only - airport in the holiday resort island of Bali.
It is 13 km south of the main town of Denpasar, however the resorts of Kuta Beach are only 2.5 km north of the airport: indeed, from the beach, you can see aircraft take off, and a faint whif of Jet A1 hangs around the southern end of the beach.
Bali Airport Guide
Despite servicing a small island, it is Indonesia's third-busiest international airport, with non-stop flights to most of Asia, Australia, and New Zealand.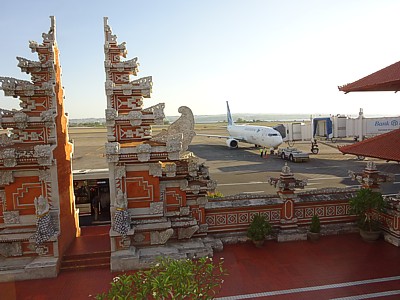 Denpasar Bali Ngurah Rai International Airport
International Terminal
A brand new Bali Interntaional Terminal has been built, and is now fully operational.
The International terminal has a Balinese architectural theme and has separate departure and arrival halls. It's capacity is up to five million passengers a year, and in peak season, all of them seem to ge trying to go through at once. The airport has 14 gates in the International Terminal, but only eight of the international gates have aerobridges - hence, you've got an almost 50% lottery of taking a bus to and from your plane.
On arrival prepare for at least a two hour wait in a hot hangar, without air conditioning. For US$35, you can pay for the VIP queue, which jumps the line, and your passport is stamped in an airconditioned office.
On depature, you must pay the airport tax in cash, and in US dollars or Rp, and in exact change. There is always a long queue of people who don't know this, changing money from Australian dollars, to US dollars, getting their fee paid, then with the remains of their change back to US dollars. This process can take several hours at peak times - and that's before you go through security. The fee is 150,000Rp.
The airport is named after I Gusti Ngurah Rai, an Indonesian freedom fighter, who died in 1946 in fight against the Dutch government.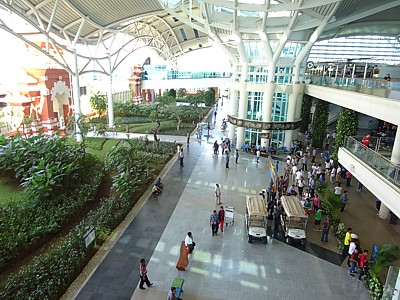 Denpasar Bali Ngurah Rai International Airport
All aircraft approach Bali from the west and depart to the east. Departing aircraft with destinations to the west of Bali will normally turn south after departure before resuming course: hence, if you want to see the beach and the bars where you probably spent most of time in Bali, sit on the right of the aircraft at takeoff for a good view.
Domestic Terminal
Bali is also very proud of its domestsic terminal, which is the 'old' new international passenger terminal, which was opened in 1975. The age of the L shaped domestic terminal shows, and queues are long, particuarly at security.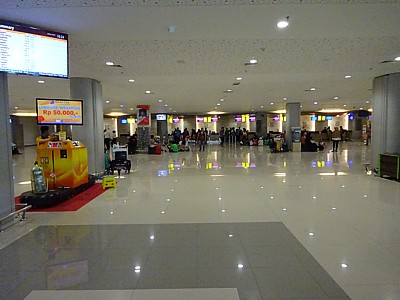 Denpasar Bali Ngurah Rai International Airport
Note that in 1978, the old International Terminal was then converted into the now Domestic Terminal (which has 3 gates) and the old Domestic Terminal from 1955 was converted to use as the Catering building, where your airline meals are still made.
Flights from here to the USA ceased following the deadly PanAm crash when 107 passengers died after their aircraft slamed into the surrounding mountains, however flights to China have resumed, despite the 1998 China Airlines Flight when 196 passengers and crew were killed en route to Tayuan after the A300 encountered a microburt.
First & Business Class lounges at Denpasar - Bali Airport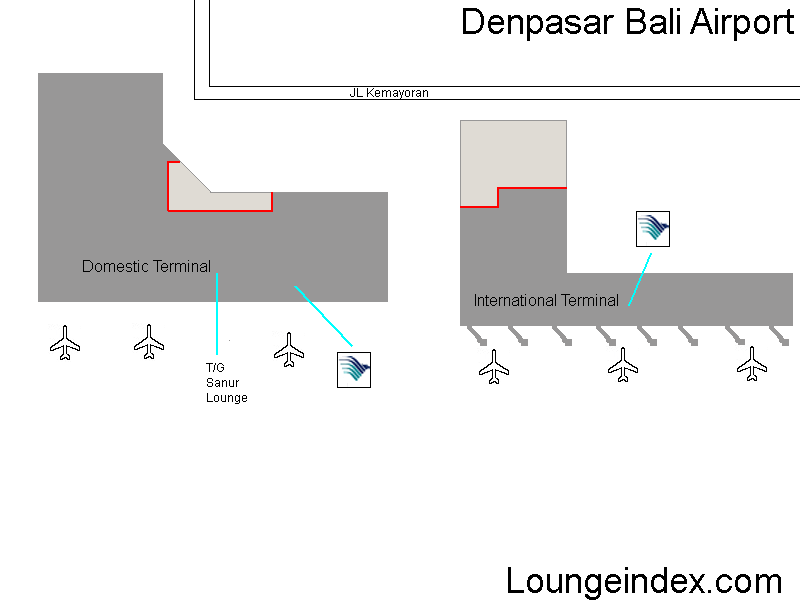 Denpasar - Bali Airport Terminal Map
Denpasar - Bali Airport transportation
Denpasar - Bali Airpor bus services
A few of the local buses pick up at the airport, however they tend to go to the old villages, and nowhere near the tourist development. It is rare to see non-natives on these buses.
Denpasar - Bali Airport shuttle
Travellers should know that many bus, limousine and shuttle bus services operating to and from the Airport usually require pre-booking. Many hotels will arrange this for you - but before you do, check to see that it is no more expensive than the regular taxi service.
Denpasar - Bali Airport taxi services
There are three type of taxis at Bali Airport. Blue island taxis, which are regulated, meter taxis, which are not, and dodgy-man-with-car, which are downright dangerous. There is only one official taxi stand at the airport, which operates with the Blue island taxis and these are generally the cheapest. The dedicated taxi counter at the arrivals floor looks like a small counter, but here the fares are fixed to each destination. If you walk past this, you will typically pay about four times the price.
Whichever you choose, your taxi going back to the airport is likely to be a lot cheaper than the one from the airport: just pick up a marked, metered taxi from the street, and avoid anyone who tell you that they will take you for a fee.
The typical Bali Airport Taxi cost from the Airport to Seminyak is around 60,000 rupiah. It will cost about 25,000 to return. If you just walk out to the main tax rank at the airport and ask to be taken to Kuta, you'll pay about 150,000 rupiah.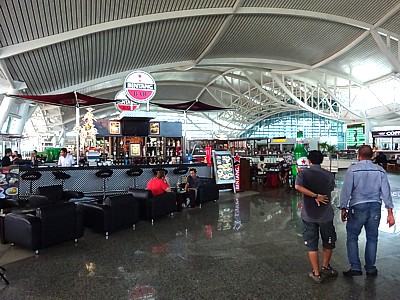 Bali Airport Bar
Bali Airport Bars and Restaurants
Bar Bintang
Open: 0430-2200
Landside International Terminal
There is a brand new Bintang bar at International departures, which is before security. The atmosphere is a bit bland, but then compared to Kuta itself it is wonderfully clear.
Along with the beer and burgers, you can also buy Bintang merchandise.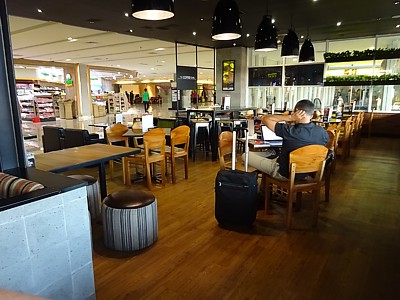 Bali Airport Bar
Coffee Club
Open: 0600-2100
Airside Domestic Terminal
The main bar, and indeed eatery, in the Domestic terminal is, oddly, the Australian chain Coffee Club.
Right in the middle of terminal B, it does an OK coffee and sandwiches.