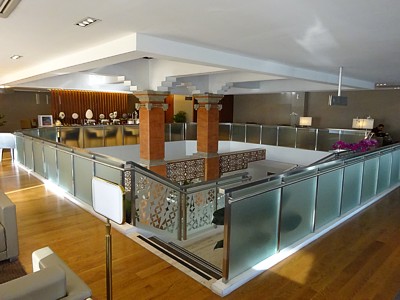 Bali Garuda Business Class Lounge
The brand new Garuda Business Class Lounge at Bali Denpasar airport in the Domestic Terminal is brand new, neat, tidy, and rather dull.
Firstly, are you sure you want the Business Class zone, or the Garuda Miles lounge at Denpasar? One is for you if you have a real Business Class ticket. The other is for elite and Gold members of Garuda Miles Frequent Flyer. Skyteam Elite Plus can use both. As indeed can anyone, as there are no checks to see who walks between the two lounges.
Confused? That's because the Bali Denpasar Garuda Indonesia Business Class Lounge just occupies the front and side of the top balcony in the lounge, after you've walked through the Garuda Miles lounge downstairs - but half of the upstairs is also a Garuda Miles lounge in the Domestic Terminal at Bali, which also used to be the International terminal, until the new one opened last year next door.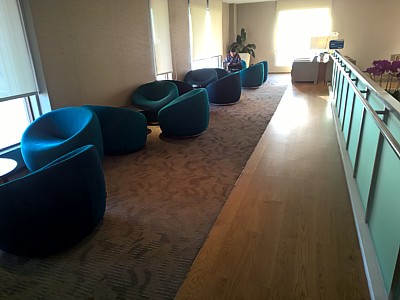 Bali Garuda Business Class Lounge
The Bali Garuda Domestic Business Class Lounge has the same entrance - on the far left of the terminal - and you then walk up the stairs. Where you'll find the lounge really is little more than a balcony.
At least the views from the lounge are superb, of the airport apron, runway, and the distant hills. Alas this part of the lounge also has the worst seats - with the strange low down curved blue seats favoured by Garuda.
Much more comfortable are the leather armchairs on the right and left of the balcony, with fixed tables between them which even have power sockets built in.
On the inland section of the balcony is the food area, and beside this there are dining tables, and inland, again, from the buffet is a ticket desk and service counter .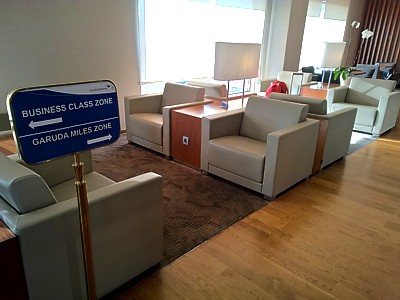 Bali Garuda Business Class Lounge
Food
The food in the Garuda Bali Domestic Business Class Lounge is superb, with good hot meals available throughout the day.
There is a refectory type buffet, under the artwork shelf with some impressive Balinese pots. There are three hot tubs having six dishes, of chicken beef and veggies, with various types of Indonesian rice and yet more vegetables to go with them.
There are two types of hot soup too, and indeed, the only issue really is the lack of a salad or anything really fresh.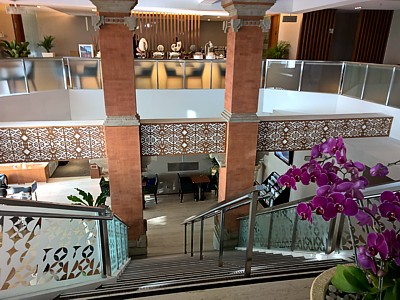 Bali Garuda Business Class Lounge
Bar
Forget the bar in the Garuda Bali Domestic Business Class Lounge. There isn't one.
There is a small fridge beside the refectory with cans of soft drink. But that's it.
Occasionally passengers report success in getting a beer out of the waiting staff, but the rarity of this event seems to indicate the Bali Domestic lounge is dry.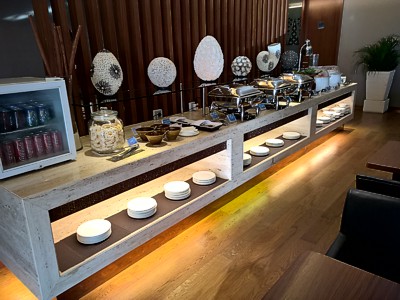 Bali Garuda Business Class Lounge
Bathrooms
In lounge, beside the food area. No showers.
Business Facilities
There are four relatively new PCs downstairs, in the main Miles section of the lounge.