Jakarta Airport Guide
News: A third, 12,000 foot long runway is being built, which will serve 430,000 aircraft a year by 2020.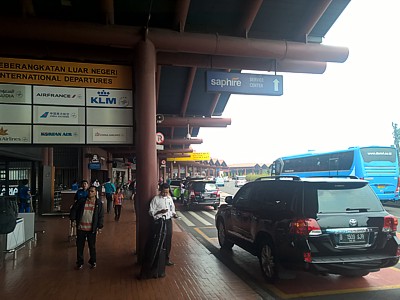 Jakarta Airport Terminal 2
If ever there was an airport which symbolised Indonesia, it is Jakarta.
Frantically busy, down at heel, being rebuilt, and with food outlets everywhere, even a quick transit via Jakarta Airport can be an assault on the senses. It is also far larger than you might expect. It is the 8th busiest airport in the world with 62.1 million passengers a year. Most of who travel just when you want to.
Jakarta Airport is located near Tangerang, north of the city, and in the middle of the night just a 30-minute drive from Jakarta city centre, however in the morning and evening peak it can take over two hours, mainly due to delays getting through the toll en-route to the airport.
Jakarta Soekarno-Hatta International Airport, to give it its full name, or called Cengkareng Aerodrome by the locals, has three very distinct terminals, all with their own unique virtues, or perhaps vices, considering it is the busiest airport in the Southern Hemisphere, and with the Jakarta to Singapore route one of the globes most significant corridors (at 15th in the world).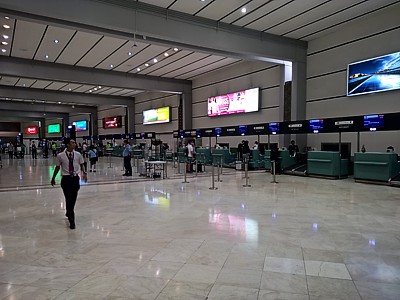 Jakarta Airport Terminal 2 checkin desks
T1 and T2 make up two halves of a circle, around which traffic circulates. Terminal 1 is the oldest to the south, from 1985. Terminal 2 opened in 1991. Both are quite tired, and both have a layout unique in the world. When arriving by car or taxi, you draw up outside the inner circle: all the cafes and food outlets are along this curved wall. Once inside you pass through security to access checkin, and the checkin hall is totally devoid of any facilities. Finally, you pass through immigration, and you are into the duty free area, with a few shops rather like a downmarket shopping centre, but only one small café.
The airport concept is described as "garden within the airport" or "airport in the garden", as tropical decorative and flower plants fill the spaces between corridors, waiting and boarding pavilions. Indeed, Terminal 1 and 2 have a great tropical atmosphere, with garden that fill the spaces between Javanese-styled pendopo waiting pavilions, which look great until you are stuck waiting for hours for your plane in these small huts with no facilities. Always go to the bathrooms before heading to your gate.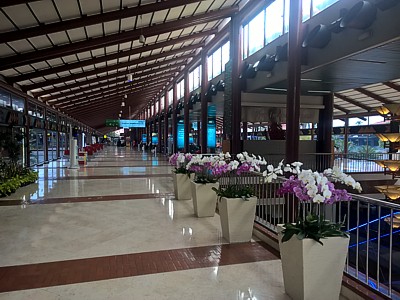 Jakarta Airport Terminal 2 airside
When passing through, look at the railings, doors and gates, which show the kala-makara (giant head and mythical fish-elephant creature) theme typical in ancient Indonesian temples such as Borobudur.
There's yet another unique feature to Jakarta Airport many passengers are unaware of. Runway pavement problem mean that heavy aircraft have to stopover in Singapore en-route to Europe.
Another wacky feature of Jakarta Airport is the Gold Club. The full 18 hole golf course is close to the southern runway, and beside the Sheraton Bandara Hotel.
Terminal 2 has free WiFi covering the whole terminal.

First & Business Class lounges at Jakarta Airport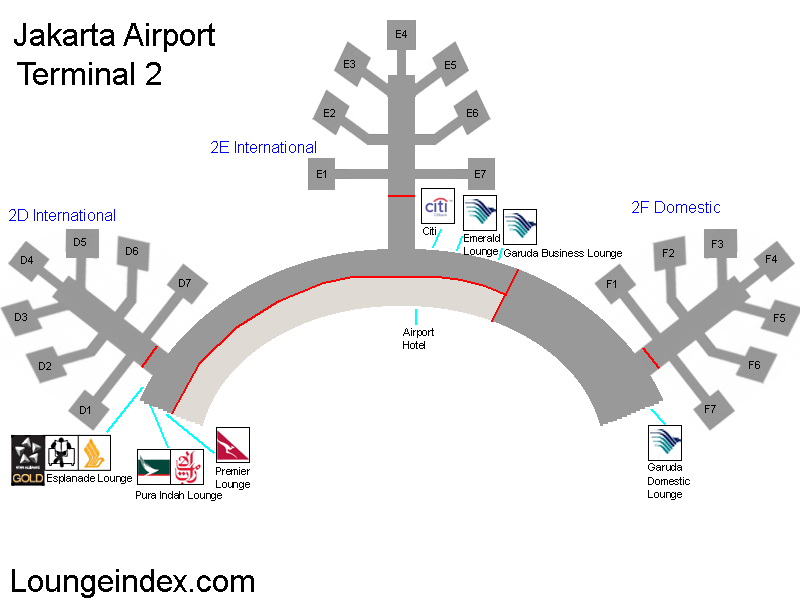 Jakarta Airport Terminal Map
Jakarta Airport transportation
Travellers should know that many bus, limousine and shuttle bus services operating to and from Jakarta Airport usually require pre-booking. You can get a taxi from the airport to the city centre, but it can frequently cost far more than you imagined.
Jakarta Airport train
There are plans for the Jakarta Mass Rapid Transit (Jakarta MRT) Metro rapid transit system line to the airport to be opened to the public by 2025/2037. The station will be located between Terminal 1 and Terminal 2 with both terminals connected by a long walkway.
At present however there is no rail system to Jakarta Airport.
Jakarta Airport shuttle bus services
The DAMRI shuttle bus operates from all terminals to various destinations in the city, including Rawamangun, Blok M/Kebayoran, Gambir, Bekasi, Depok and Bogor. It's cheap, at only IDR25,000, but can take 80minutes to 2 hours.
Jakarta Airport Hotel
There is only one on-site hotel at Jakarta Airport.
The www.jakartaairporthotel.comJakarta Airport Hotel is a basic 3-star transit hotel. Located in Terminal 2 above the arrivals area, it has 82 rooms, a 24-hour restaurant called the Cockpit, the (wait for it) Jet Lounge Bar and meeting room. Rooms are available for day stopovers as well, for periods of up to six hours.
Jakarta Airport taxi services
Getting a taxi to and from Jakarta Airport is usually a nightmare, and many passengers just don't bother.
There are taxis at Jakarta airport, but due to the sure hassle factor, most hotels will send their own fleet of cars to both pick up and drop off booked guests. To get a taxi at Jakarta airport, go to the Bluebird taxi counter in the arrivals areas of the terminals. It takes 80-90 minutes to get to the city centre, and expect to pay upwards of IDR200,000. You absolutely must agree a fare before getting into the cab: never trust the meter.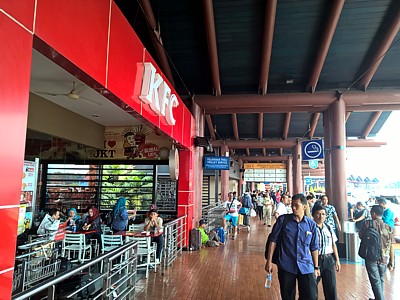 Jakarta Airport KFC, landside T2
Car Hire at Jakarta Airport
Major car hire operators are located in the Arrivals Halls. To save time and ensure you get the car you want, book your rental in advance. Rental car operators from Jakarta Airport include Garuda Biru, Golden Bird and Trac, among others. Car hire desks are located in Arrivals.
Jakarta Airport Departure Tax
Departure taxes now form part of your ticket price.
Jakarta Airport Arrivals
When you arrive at Jakarta you can get a visa on arrival. This is free for citizens of virtually all countries worldwide, except Australians. Australians have to pay $35 (in Australian Dollars), and this is usually in cash, as the visa desk normally does not have a working credit card machine.
Jakarta Airport Left Luggage
Jakarta airport luggage storage is handled by a company called Pacific. The Jakarta Airport Left Luggage desk is in Terminal 2 (hall D).
Car parking
Jakarta airport car parking is quite good. There is extensive car parking, including long-stay facilities, at the airport, between Terminal 1 and 2.
The airport is connected to Jakarta's city center via the Sedyatmo Toll Road.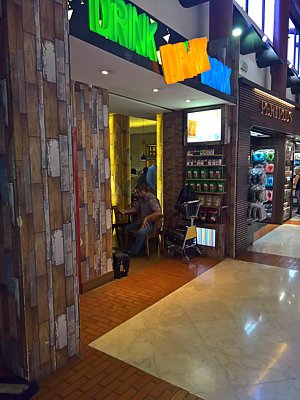 Jakarta Airport Drink Drink Drink
Jakarta Airport Bars and Restaurants
There are exceptionally few places to eat airside after security at Jakarta airport, and the airport for many years was notorious for being one of the few without an airside bar. Now, there is a tiny one, called 'Drink'.
In most cases you should drink landside, opposite the set-down area, where there are a few mediocre cafes which also serve cans of beer.
Jakarta Airport Bar - Drink Drink Drink
Open: 0500-2200
Airside T2
As the only airside bar in Terminal 2, the Drink Drink Drink bar is as good as it gets. You can get a Bintang! On draft! For only 65,000IRD!
Alas it is a tiny hole in the wall, blink and you'll miss it, type of place. It can be hard to get in the door, it is so small!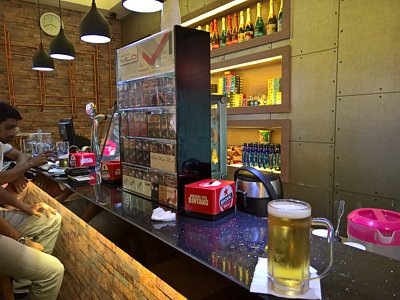 Jakarta Airport Drink Drink Drink
The bar also serves a cheese burger, nuts nibbles, and some spirits of fairly obscure origin.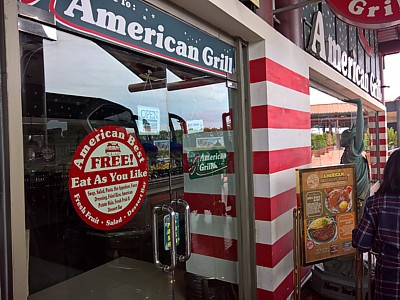 Jakarta Airport American Grill, T2
American grill Bar and resturant
Open: 0500-1900
Landside T2
It's pretty grim, but there isn't a lot of choice landside at T2. Just about the only decent Western food place at Jakarta Airport is located right at the far end of the terminal, opposite the cab rank,
before
you head through security to the check-in area.
The American Grill is half inside, in aircon, and half outside, in the traffic fumes. What is amazing is that it actually has a small collection of wine and beer. Inside, there is a near perfect copy of a salad bar from a US Pizza Chain - just fill up your bowl with salad which is freshly washed in tap water. Beware.
The Jakarta Airport American grill Bar and resturant serves adertises Bintang, but actually you'll get a tiny bottle of Sapporo delivered to your table, at the amazing price of 115,000IRD. It is some of the most expensive beer on the planet.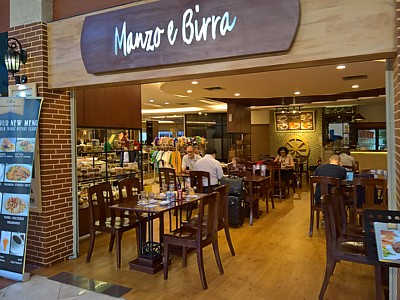 Jakarta Airport Manzo e Birra
Manzo e Birra
Open: 0700-1900
Airside T2
The Manzo e Birra is that most unusual of things - a Spanish themed Tapas bar, in Indonesia. Mainly a cafe it also serves beer, and has some prety good Western food too.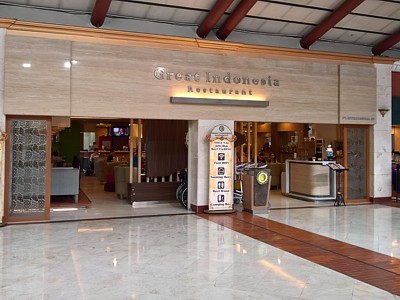 Jakarta Airport Manzo e Birra
Great Indonesian Restaurant
Open: 0800-2100
Airside T2
The Great Indonesian Restaurant at Jakarta Airport is a pretty good sit down restauant. It serves classic Indonesian dishes, and also a good Indian curry.