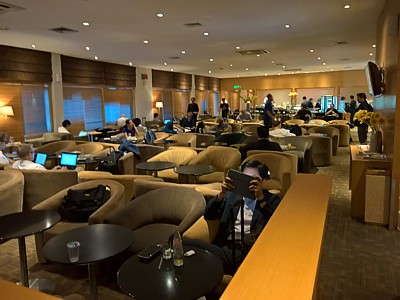 Jakarta Pura Indah Lounge
The Jakarta Pura Indah first and business lounge is the main 'third party' airport lounge at Jakarta International Airport, and as such takes customers from Qantas to Emirates to Cathay Pacific. As such it is open dubbed the Jakarta Qantasclub, but make no mistake, it is a third party lounge, and there is frequently no access for Frequent Flyers.
You really need an invite from checkin to access this lounge, and the invite says you can visit either this lounge, or the Premium lounge next door. They are operated by separate companies, have different facilities, and once you make a choice - and hand over your hard earned voucher - you can't change your mind. Choose carefully. The Pura Indah lounge has much better views - it has windows! - faster wifi, and better chairs, but it's smaller, and crucially dry until 6pm. So, if you want a drink before the Qantas flight, you always need to go to the lounge next door, the Premium JAS lounge, which has better food and showers, and also a very basic bar.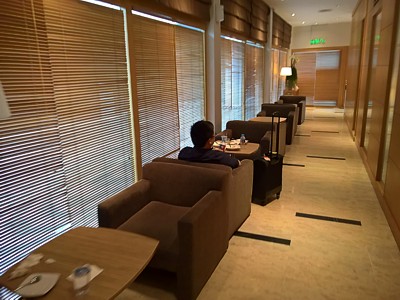 Jakarta Pura Indah Lounge
The Jakarta Pura Indah lounge is on the extreme left of the international E concourse; walk to the end of the curved shopping centre, past the 'Drink' bar, and it's right ahead. The reception desk will direct you either to the left, which is the First class lounge (also used by Priority Pass), or to the right is the business class lounge. You can't see into the lounge from reception, as there is a diving wall.
For Business you walk up a small corridor - with seats - and windows looking into the First 'box', which is pretty similar, but has slightly better food and waiter service.
The Jakarta Pura Indah lounge is no great shakes, and if you are in Business on Garuda use their lounge, but as a freebie it is OK, although quite small and in effect just a small box. It's better than sitting outside in the main terminal, but only just.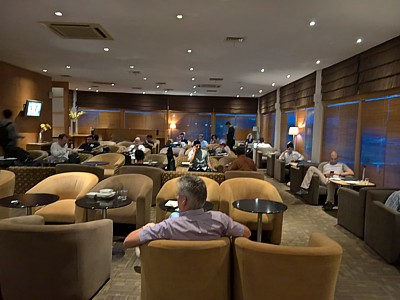 Jakarta Pura Indah Lounge
The main part of the Business side is a square box, with a walk in corridor, a small side 'corridor', and a large smoking room. Indeed, smoke from this room often drifts into the main lounge.
At the top end of the main 'box' is the refectory counter, food and drinks shelf, and four dining tables.
At the bottom end of the 'box' is a curved screen behind which are six work shelves, and three computers. The view from here is the best.
The main part of the lounge, and indeed what you'll remember the most, is that the lounge is rammed with chairs. Absolutely stuffed with them it is. And it needs it, at peak periods such as a Friday evening, the lounge sometimes has more customers than chairs. An issue is that most of the chairs are arranged in 2+2 around a very large table, which means that single or two people together often occupy four chairs, and arrange their luggage around the other chairs, making it hard to sit. Some customers can be pretty blunt too if you ask them to move their bags.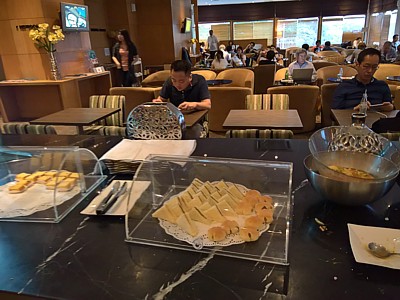 Jakarta Pura Indah Lounge
Food
The food in the Jakarta Pura Indah First and business Lounge is not exactly over the top, but OK for a quick snack before flights.
There are a couple of hot dishes, typically of chicken and beef with rice or a vegetable mix. There is also a heated cabinet, with small fried balls of some kind of meat.
There is also a tall rotating fridge with some sweet deserts.
On the other side of the counter are packets of sandwiches, which you may think are cheese or ham. They are - but cheese covered in very sweet pickle! It's a taste surprise.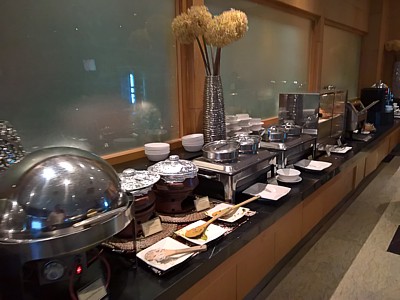 Jakarta Pura Indah Lounge
There is also a salad bar with either garden or ceaser salad. Do not ever touch or go near these salads, which are bathed in tap water. They look inviting, but you'll write off the next two days if you do.
Packets of biscuits and nuts complete the catering delights.
Bar
The bar in the Jakarta Pura Indah Lounge is non-existent. The lounge is dry! At least until 6pm (or all day during Ramadan) you can't get anything more exciting than coke or Sprite, which is in the tiny fridge to the right of the hot cabinet. Never go near the jugs of tap water.
However, after 6pm, if you flag down a passing waiter, you can ask for a complementary Bintang.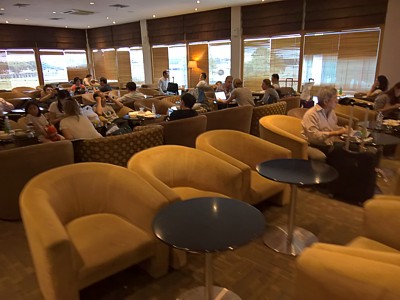 Jakarta Pura Indah Lounge
The giddy heights of a free beer are very quietly handed over, and you get the feeling as little attention is drawn to this as possible, but it is a great feature. Or, you can just head to the JAS Premier lounge which has beer on draft all day. Note that the First Class lounge, to the left of the entrance, has beer all day, in cans.
There is no wine or spirits.
Bathrooms
There are bathrooms in the lounge. Or rather a tiny gents and ladies.
In each side, the first cubical in the row is actually a shower cubical, with towels handed out by the attendant. Queues can be long.
Business Facilities
Business facilities are pretty basic. There is a small pile of magazines, but no newspapers.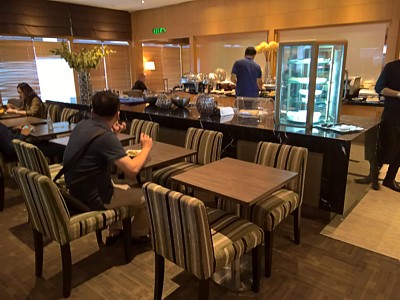 Jakarta Pura Indah Lounge
There is a small business centre workbench at the far end of the lounge, at the windows overlooking the car park. There are three computers, which are very old slow PCs.
There is free wifi in the lounge. You need a code from reception, but it is faster than in the Premier lounge next door.
Access
You need an invite from reception, or you can buy access for 150,000Rp.
HSBC Premier Card holders also get free access, with vouchers (not available on the door).