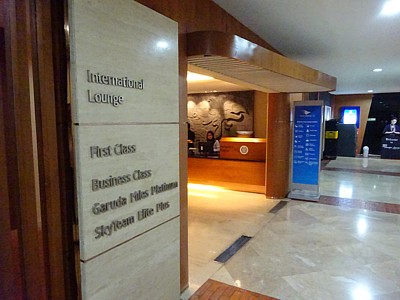 Jakarta Garuda Business Lounge
The Garuda Business Class Lounge at Jakarta airport tries hard, and is an acceptable lounge, but it will never win any awards for facilities or presentation.
The Jakarta Garuda Indonesia Business Class Lounge is down the small corridor to the right of the E concourse, past the Citibank lounge, at the far opposite end of the Singapore Airline lounge.
The Garuda Business Lounge and the Garuda Executive lounge are right next to each other, so make sure you walk past the Emerald Executive lounge, with the Garuda symbol. That lounge is for Frequent Flyers. However if you have a real Business Class ticket, you want the full Garuda Jakarta Business Class Lounge.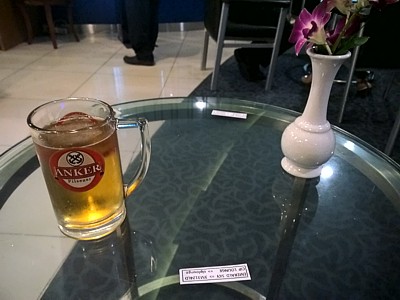 Jakarta Garuda Business Lounge
The lounge is big - really, quite big - with plenty of separate seating areas.
Unlike the smaller lounge next door there are plenty of places to sit, and indeed the light beige colour scheme makes the place look inviting.
When you first walk into the Garuda Indonesia Business Class Lounge it seems like and underground dungeon without natural light, but walk around and make yourself comfortable and you'll see there are plenty of seating areas in the huge lounge, and at the far end many are next to the floor to ceiling windows that look out onto the tarmac.
The three main seating areas in the Garuda Jakarta international lounge are the strange round blue seats, the large squasy beige armchairs with wooden tables between them, and the leather recliners right at the back.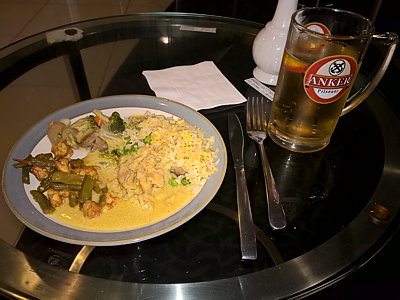 Jakarta Garuda Business Lounge
Food
The food in the Jakarta Garuda international Lounge is not exactly spectacular. There is hot soup, and then a choice of three or four hot dishes, which typically are chicken, beef or veggies, with rice or more veggies.
There are also some sweet and savoury snacks, packet of nuts, and small deserts in hard plastic wrappings.
Bar
There is one small staffed bar at the back of the lounge, with complementary Anker beer, and one choice of red or white.
Jakarta Garuda Business Lounge
Bathrooms
The Garuda Indonesia Lounge no longer has a spa, but it does have a shower in the bathrooms.
Business Facilities
Free wifi. Free newspapers.