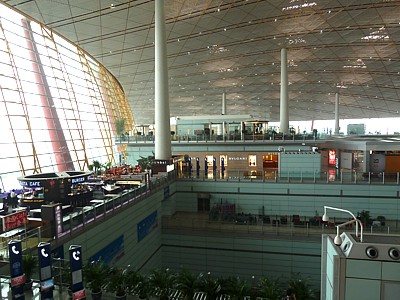 Beijing Airport The vast Terminal 3, international end
Beijing Airport Guide
If you like your airports on a gigantic scale, you'll love Beijing International Airport. The vast goliath is the busiest airport in Asia and the 2nd busiest in the world, behind Atlanta. Indeed, it has rapidly ascended in rankings of the world's busiest airports in the past decade - in the 1990s it was a tiddler. Now it has over 73 million passengers flying annually, with over 70 airlines flying to over 200 cities worldwide.
Beijing Capital International Airport - to give it its correct title - is located 15 miles (20 kilometers) north of central Beijing, or Peking as it was originally called, hence the code PEK for Peking Airport.
The airport has three terminals. Terminal 1 handles domestic flights, while Terminal 2 handles international flights and flights between Hong Kong, Macau and Taiwan. Terminal 3 was constructed to handle visitors for the 2008 Olympics and is the 2nd largest terminal in the world.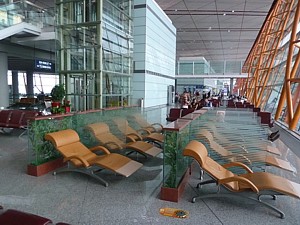 Beijing Airport The vast Terminal 3, international end
Terminals 1 and 2 are linked by a public walkway that takes about 10–15 minutes to traverse, however to Terminal 3 you will need to take the inter-terminal shuttle bus. The buses leave every ten minutes from 6 am to 11 pm, and every 30 minutes from 11pm till 6am.
Beijing Airport International Terminal 2
Beijing Airport Terminal 2 is now nearly 15 years old - and looking it. It really is getting quite tired. Small compared to Terminal 3, it has only 20 airbridges - with one specifically for the A380 - and mainly deals with Skyteam flights, including China Southern Airlines, China Eastern Airlines, and Air Koryo.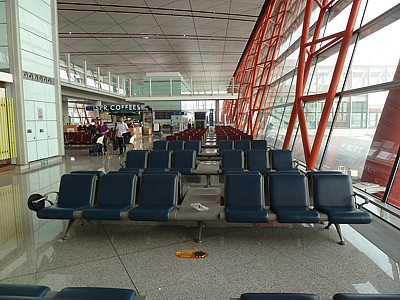 Beijing Airport The vast Terminal 3 international
Beijing Airport International Terminal 3
Beijing Airport added the enormous Terminal 3 in 2008 for the Olympic Games. It is the second largest airport terminal in the world after Dubai Airport's Terminal 3, and the fifth largest building in the world by area. It has 66 airbridges, and 120 remote stands. On many international flights, alas you will be bussed to the airport.
Far from a white elephant, on most international flights you will end up here. It was designed by the UK Architect Foster and Partners. Traditional Chinese elements are employed in the terminal's interior decoration, including carvings imitating the famous Nine-Dragon Wall, and a copper vat used to store water for fighting fires in the Forbidden City called a "Menhai".
The main domestic terminal is called Terminal 3C. There are also two satellite concourses - Terminal 3E is for international flights. T3C and T3E are in fact two-kilometres apart - a people mover takes the trip in two minutes.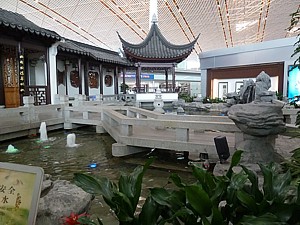 Beijing Airport Terminal 3, indoor garden
There is an indoor garden in the T3E waiting area, styled like the imperial gardens at the Summer Palace. On the people mover train to T3C, there is an underground tunnel garden.
There is also Terminal 3D (named the "Olympics Hall" as it was used for charter flights during the Beijing Olympics) which is now starting to be used for international flights.
It is Air China's main base at the airport - and as such almost all Star Alliance depart from here, from Lufthansa to Turkish, SAS to United, Singapore Airlines to Austrian.
There is also a small oneworld base at Beijing Airport Terminal 3.
Beijing Airport Domestic Terminal 1
Beijing Airport Terminal 1 is really small. It dates back to 1980, when it was the main international terminal, but it was refurnished in 2004.
Terminal 1 is used by China Southern Airlines on domestic routes, along with minor airlines lik eXiamen Airlines and Chongqing Airlines.

First & Business Class lounges at Beijing Airport
Beijing Airport Terminal Map
Beijing Airport transportation
If you want to get from beijing airport to city, you will almost always end up on the train. It is fast, quick, and cheap.
Travellers should know that many bus, limousine and shuttle bus services operating to and from Beijing Airport usually require pre-booking.
Beijing Airport train
The Beijing airport train to downtown is part of the Beijing Subway. The
Airport Express Line
of the Beijing Subway will take you all 17 miles (28km) into the city via Sanyuanqiao and Dongzhimen. From the city it does a loop at the airport, calling first at Terminal 3, then running through Terminal 2.
The Beijing airport train schedule is good - it takes 20 minutes (16 from Terminal 2) and runs 6:00am to 10:30pm.
Beijing airport train fares are 25RMB one way - vastly more than the usual Beijing Subway ¥2 flat fare.
To go from Beijing airport to Forbidden city you'll need to take the Airport Express Line to San Yuan Qiao and head south on Line 10 to Guo Mao. Then change to Line 1 to reach Wangfujing or Tian'an Men Dong, for a further ¥2. This may sound complicated, but it is a lot cheaper and faster than a cab.
Beijing Airport shuttle bus services
There are shuttle busses to various points in Beijing, including Xidan, Fangzhuang, the Beijing Railway Station, Zhongguancun and the Nanyuan Airport.
Beijing Airport taxi services
Getting a taxi to and from Beijing Airport is usually trouble free, however decline all offers to help you with your baggage, and ignore anyone touting taxi services, as the cab will be unlicensed, and probably cost you more.
Taxis from Beijing Airport are not expensive - a typical run into the city centre or downtown will cost about 170RMB including ¥10 expressway toll, however take one from the official rank, and bring your destination and address written in Chinese characters to help the driver - he's most unlikely to speak English.
Car Hire at Beijing Airport
Major car hire operators are located in the Arrivals Halls. To save time and ensure you get the car you want, book your rental in advance. Rental car operators from Beijing Airport include:
Europcar
,
Thrifty
,
Avis
and
Budget
.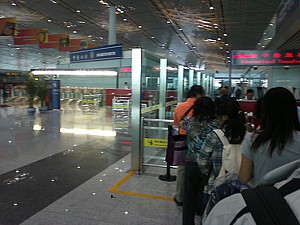 Beijing Airport airside transit Transit without visa
Beijing Airport Transit without visa
It should be pretty simple to go through Beijing Airport Transit without Visa. In reality, it's harder than you imagine. Mind you, it is vastly simpler in Beijing rather than in Shanghai, where you have to go airside to transfer between planes.
At Beijing you do not have to do airside to transit between international flights. Instead, you just collect your new boarding pass (if you don't have it) and go downstairs to departures. This is the tricky bit. For a start there are only two people on the transit desk - and the queue can be deep. There is no priority line: it can take upwards of an hour. Then, head to the 'airside transit' queue, not the immigation queue. This queue is the long snaking line to the right of the main passport control. You will then have your passport stamped for 'China entry', you go down the stairs, and 10 meters further on down the same corridor your passport is stamped 'China exit', sometimes by the same person who admitted you. There is then a further security check and xray. Allow two hours for the whole procedure.
You can however exit the airport - and even stay overnight - without a visa. The golden rules is that certain passport holders do not need a visa to transit or enter China, if your onward flight is within 24 hours (48 hours for a few passport holders), and it forms part of an onward journey: you can't have a return TO Shanghai, and only stay for 24 hours. You must be flying directly in and out of different countries. Also, anything, even 5 minutes over 24/48 hours, needs a visa without exception.
The exact wording of the visa regulations is changing, however in general transit visas are not required if you hold an air tickets to a final destination on international airlines flying directly through China, and will stay for less than 24 hours without leaving the airport. This is extended to 48 hours for anyone with a passport from the Republic of Korea, United States, Canada, Australia, New Zealand, Germany, France, Netherlands, Belgium, Luxemburg, Portugal, Spain, Italy, Austria, Greece, Sweden, Denmark, Norway, Finland, Iceland. Note that UK Passport Holders are specifically excluded from the 48 hour rule. A 24 hour limit applies for passengers from the UK.
Beijing Airport Left Luggage
Beijing airport luggage storage is handled by Beijing Capital Airport itself.
There are left luggage facilities in both terminal 2 & 3.
In terminal 3 The Beijing Airport Left Luggage desk is on the right (when arriving) in the arrivals floor.
Cost is 10 RMB a day for small hand luggage, to 50RMB a day for huge suitcases.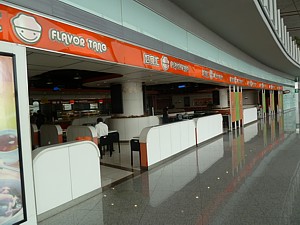 Beijing Airport The global kitchen
Beijing Airport Bars and Restaurants
Food options are rather poor in terminal 1 & 2, however in Terminal 3 at the domestic end, landside, there is a food court called the "global kitchen". There are 72 outlets with a blend of Chinese and Western dishes, although it has a very bland shopping centre atmosphere, and the food is little better than a motorway service station.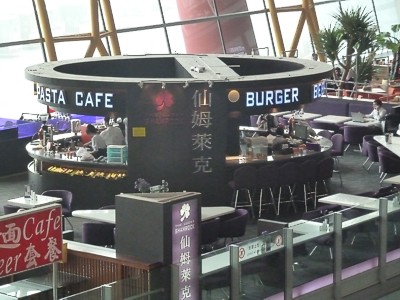 Beijing Airport Shamrock Bar
The Shamrock Bar
Open: 1100-2300
Airside, T3 E International
Get ready for a laugh if you head to the Irish Bar at Beijing Airport. It has obviously been built by someone who has never been in a pub in their life.
What the idiots running this place have done is decide that because there are so many westerners going through the airport, they need at pub at Beijing Airport. So, in the central food servery of right at the apex of the triangle, they have cut a small hatch in the roundel, put three chairs there, two draft beer taps, and put up a purple sign saying 'The Shamrock Bar'.
It is hilariously bad. The service is dire, and the staff look at you oddly if you want to, say, drink your beer at the bar.
Beer is both types of Tsing-tao. Guiness is available in cans. Wine, if you really want, is Chinese Imperial Court Wine.
Avoid, just avoid.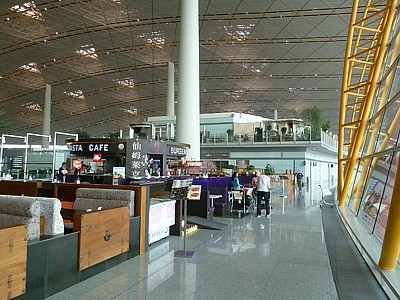 Beijing Airport Cafe Sambai
Cafe Sambai
Open: 0600-2100
Airside, T3 E International
It doesn't get much better in the food court next to the Shamrock Bar, but at least the view is good.
Food in the Beijing Airport Cafe Sambai is pretty basic - imagine burgers, a club sandwich, or at a pinch pasta with the life boiled out of it. The noodles are far better - if only they know how to cook them.
Oddly, the coffee here is really good.
Oh, and that view? Well, the cafe is situated right at the apex of the airport, in just the right spot. The only snag is that with the Beijing smog, it's rather hard to see anything out of the windows, let alone a plane or the runway.