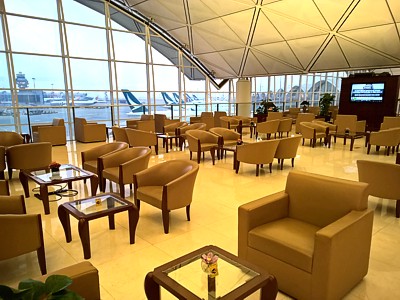 Hong Kong Emirates Lounge Business & First Class Lounge
The Emirates Lounge at Hong Kong airport is large and comfortable, but it hasn't been revamped like other Emirates lounges, and so still has elements of the old 'Dubai Chic' style. The lounge is full of gold, and tan leather armchairs.
The Emirates Hong Kong Lounge is at the end of the pier by gate 40. Take the train - or walk - down to the end of the pier, slightly left, then take the stairs or escalator up, and there is the familiar looking Emirates door.
Walk down the corridor (showers on the right) and the Hong Kong Emirates lounge is, in effect, just one large room, divided into a dining and eating on the left, and lounging on the right. Past the pillars, overlooking the lightwell to arrivals, is also a small balcony area, and this is usually the quietest part of the lounge.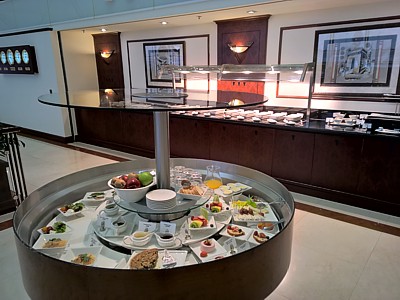 Emirates Hong Kong Lounge
There are still the same Italian marble floors and walnut wood finishes as you'll get in any Emirates lounge around the world. The Hong Kong Lounge has the usual amenities including a full complimentary hot buffet with a dining area, a small self service bar with Champagne, shower suites, a prayer room, and a business centre.
At a stretch the lounge will fit 180 people, but that's with every seat not piled high with passenger's luggage, which it often is. Adding to the seating woes are the way most seats are arranged in groups of four, and most passengers from Hong Kong are on their own.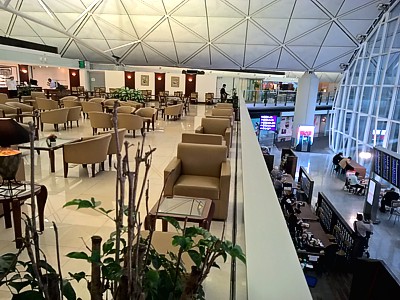 Hong Kong Emirates Lounge Business & First Class Lounge
There are two large wall hung TVs, which either show CNN, or oddly Russia Today, with the sound thankfully turned down.
At the far end is a 'shelf' designed for lone diners to look out over the South China Sea, and indeed, also the airport itself. The sunsets here are spectacular, and it has some of the best views in the airport.
Food
The Food in the Hong Kong Emirates Lounge is very good, laid out on a sideboard opposite the main dining chairs. Alas getting hold of one of these chairs can be a little tricky at peak times.
Reflecting its status both as a combined First and Business lounge food is a little better than you might expect. In large tureens there are hot dishes with lamb tagine, pasta, noodles, fish, and meat pies. You can even get a steak if you want it, although it tends to have spent some time sitting in the metal dish before you get to it.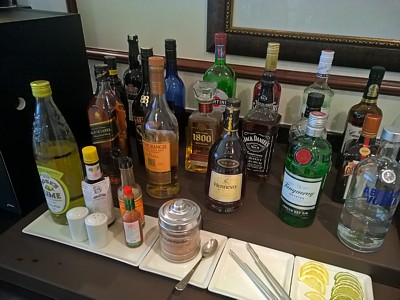 Emirates Hong Kong Lounge
There is the standard round fridge, with cold items on small individual plates for individual portion, and the salads are really good. There are some really good and novel types of salads, plus some of the best desserts in mini-bowls on the Emirates network.
Reflecting local tastes, there are local delights such as satay (peanut chicken on sticks) and fried rice.
There are normally some staff, and sometimes even the chef, hanging around the buffet, and as soon as an item is taken they go away and make another one.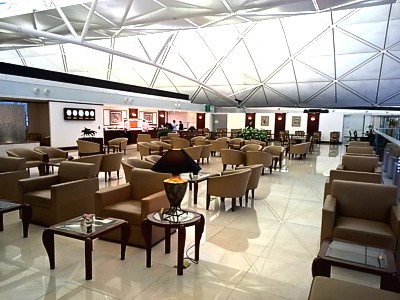 Hong Kong Emirates Lounge Business & First Class Lounge
Bar
Of course there is a standard Emirates bar, which means the usual tiered shelves fully stocked with free pour bottles of spirits. Alas, the wine selection is a little poor, however there are bottles of Moët Champagne in the wine cooler.
Beer is Heineken and Tiger beer in the fridge.
There is only one bar area, right in the corner past the food.
Bathrooms
Bathrooms are in the Emirates Hong Kong Lounge, up the corridor back to reception.
Both Male and Female have two showers, normally stocked with towels. The staff have amenity kits.
Business Facilities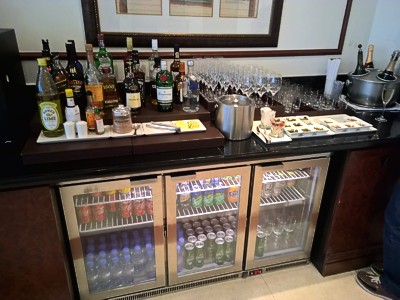 Emirates Hong Kong Lounge
There is a full Business Centre, even through few people seem to use the computers any more and bring their own device. There are six computers, desktop PCs with a rather slow internet connection. There is also a combined printer and photocopier.
The Business centre is off the main corridor.
Power sockets are standard UK/Hong Kong, and can be found only in a few locations in the lounge - the Emirates Hong Kong lounge was built before many people brought their own device with them.
Boarding calls are actually made in the lounge, and staff will come around and tell you that the flights are boarding. LCD Screens with boarding information and timings are also available throughout the lounge.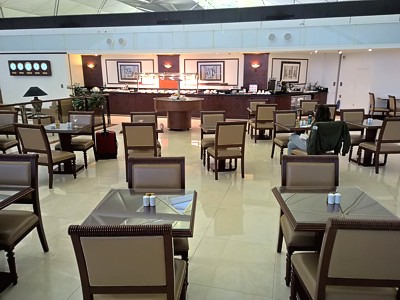 Hong Kong Emirates Lounge Business & First Class Lounge
Wifi is available in the lounge, and overnight it is very fast, but in the mornings and early evening, it slows to a crawl.
The magazine rack in the lounge is far better than average.
Access
The Emirates Hong Kong Lounge is now available for economy passengers, who can just buy their way in on the door for US$100 when travelling with Emirates, or on an Emirates codeshare flight operated by Qantas.
Of course there is free access to Emirates first class and business class passengers. Qantas first class and business class guests are also welcome, although Qantas does operate its own brand new lounge at Hong Kong Airport.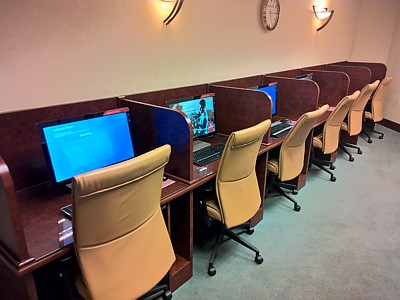 Emirates Hong Kong Lounge
Emirates Skywards Gold, Platinum and iO cardholders flying with Emirates or Qantas get access, as do Qantas Gold, Platinum, Platinum One and Chairmans Lounge members travelling with Emirates or Qantas.