Hong Kong Cathay Pacific The Cabin Lounge
Described by Cathay Pacific as "contemporary, refreshing and dynamic", it is a move onwards from the design of the original Pier lounge, which is now looking a bit careworn. Indeed The Cabin features a cutting edge design so much on the edge of ultra-modern it could also be called achingly trendy.
For all its aspirations, the new lounge is separated into five fairly normal zones. Once past reception, there is a business centre (The IT Zone), a walk up food bar (The Deli zone), a long bar (The Health Bar Zone) and The Relaxing Zone - the new name for the trendy seating area, which features a blend of warm wood, bamboo, white marble and dark granite that builds on the airline's existing lounge palette, apparently.
In The Relaxing Zone, there are, as you'd expect, chairs. The Oscar chair is designed by Pearson Lloyd and made by Walter Knoll. The alcoves contain Foster 503 arm chairs designed by Sir Norman Foster and again made by Walter Knoll which give a bit more privacy.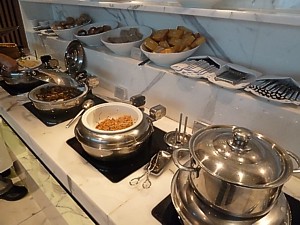 Hong Kong Cathay Pacific The Cabin Lounge
The biggest attraction in The Cabin is a new toy called the Cathay Solus Chair. Just incase you don't spend enough time in one seat while you are on the plane, you can get the same experience on the ground. This is a purpose-built pod where you can eat, work and sit. Costing thousands of pounds, and after years of trials with Marco Polo Club members it is rather like a curved portaloo, with acres of red leather, with a flip-down table to eat your meals (also known as a shelf) and to complete the in-flight experience, there is a small TV screen in the form of an iPad, which comes pre-loaded with apps. There is even a power outlet (UK design 13 amp plugs only) for your inflight-laptop. Foster + Partners jointly created this unique chair, refined the chair's functionality and ergonomics, and it has then been handcrafted by Poltrona Frau in Italy, before being air freighted in, which is the nearest this seat comes to flying.
To complete the design, and to tick off all the flourishes, make sure you check out the reception wall made of Venetian glass tiles by Fabbian of Italy.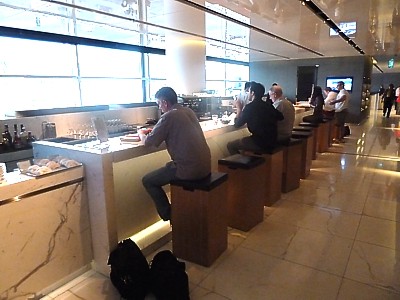 Hong Kong Cathay Pacific The Cabin Lounge
Food
If you tire of these delights, there is a walk-up buffet with sandwiches. But not any sandwiches - these are Cathay Pacific sandwiches, from the All Day Deli no less. Taking its name from the economy class bag handed out in the late 90s by BA, The Deli offers made-to-order hot sandwiches, fresh antipasti and salads. The buffet counter and Deli are crafted from white Carrara marble and framed with a slatted bamboo wall to create a premium ambience. The dining tables are custom-made in white Corian and accompanied by the Catifa dining chair by Arper and leather banquette seats.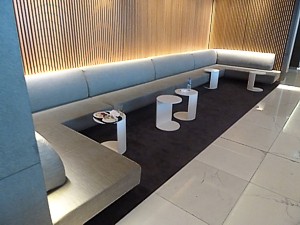 Hong Kong Cathay Pacific The Cabin Lounge
At The Deli, fresh food if offered up to you on the newly designed "Cathay Pacific Signature Plate". This custom-made porcelain plate has a subtle abstract bamboo pattern and has been produced exclusively for Cathay Pacific by Noritake of Japan.
Bar
Of course, after all this excitement, you'll probably need a drink. Despite the scary name of the Health Bar Zone, the
Long Bar
has rather grumpy barstaff who will pour a drink for you; there is a wine list, along with champagne, and of course beer on draft.
Bathrooms
In lounge.
Business Facilities
As if the leather on this chair wasn't eye-popping enough, there is a 30 foot long glass wall with pulsating LED lights in the IT Zone.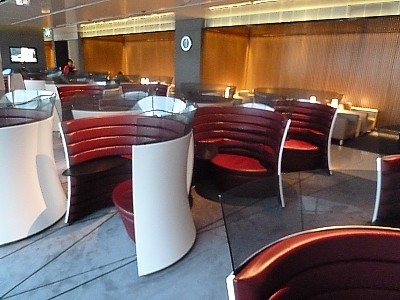 Hong Kong Cathay Pacific The Cabin Lounge
It is designed to provide an "energetic feel", overhanging the Techno Bar, which isn't a the king of Bavarian dance music as you might expect, but instead provides a caffeine fix while you use one of the 11 PCs, 6 Apple iMacs and 20 Apple iPads in addition to a video-conference room. The workstations are made from hardwearing black Italian stone and trimmed with stainless steel no less, while the painful sounding LEM piston stool is an easy swivel and has a small back on which to hang your techno jacket.