Hong Kong Cathay Pacific G16 Lounge
The G16 lounge is located in the North concourse, right by Gate 16, and if it looks a bit old, that's because it is, having a past life at the former Dragonair lounge, which has now been taken over by Cathay Pacific.
It is a "one lounge" complex, which is a simple way of saying it does not have a separate First Class section, and with food similar to that available in the Business Class sections of The Wing or The Pier.
It really is the most unimpressive of the lounges at Hong Kong, with a slightly daggy feel, as if it is a leftover that noone can quite work out what to do with it.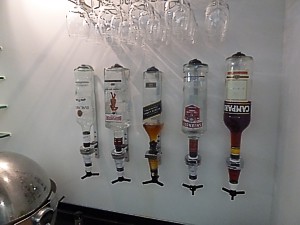 Hong Kong Cathay Pacific G16 Lounge
However if does have one advantage that the other lounges do not: a massive open air space up to the roof with lots of light.
Watching the sunsets from the terrace in this lounge would be an amazing experience, if it wasn't for the worn out chairs and the slightly too-much-space, find some more plants to fill it, to hype up the atmosphere.
Food
One hangover from its past life is that the noodle cart is contracted out to Chiu Chow Express rather than The Peninsula Group. There are wonton noodles and fishball noodles, prepared by the on-site chef from 7am to 6pm: to select a dish go up to the serving hatch, and select an option: there are pre-made plates so you can see what they look like.
There is also a buffet counter, but don't get too excited, as it really is a very poor selection on offer, with soup, sandwiches, or one hot tub with rice and beef.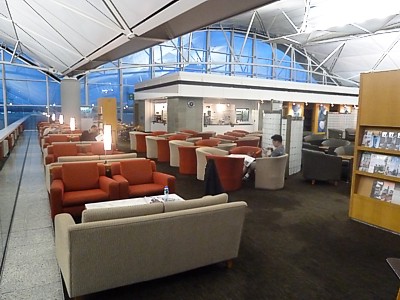 Hong Kong Cathay Pacific G16 Lounge
Bar
The
bar
is very poor indeed. There are cans of beer in the fridge, or all of five optics with spirits on the wall: Smirnoff Vodka, Beefeater Gin, Jonnie Walker Black Label, Campari and Bacardi make up the selections. Cans of soft drink are around the corner in the free standing fridge.
Bathrooms
In lounge.
Business Facilities
Computers are good, with a small enclosed computer room in little wooden hutches in the block behind the terrace.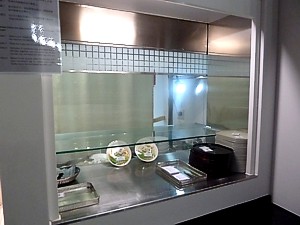 Hong Kong Cathay Pacific G16 Lounge
There are showers here too. There are also four more computers right at the tip of the nose of the terrace overlooking the gates: these have to have some of the best views for computers at Hong Kong.